Celebration to Website 3 Years !
1.Enjoy 8% discount, If you pay through West Union.We will shipping within 24 hours.
2.Enjoy buy 5 pcs and get 1 free and free shipping DHL!

Newest Update Super VAG 12.12.3 hex usb can interface is the first affordable tool with any support at all for VW Crafter vans, and of course compatibility with all the latest 2014 model VW/Audi Group passenger cars.
Super VAG 12.12.3 hex usb can interface is fully compatible with all VW, Audi, Seat and Skoda models through the current model year, including models using a direct CAN connection for diagnostics.
Notice:If you choose DHL shipping , you may need pay tax.
Highlights
1.Supported win XP/7 32bit and 64bit
2.Not crack verison ,Original software Perfect install version with full function .
3.Self-protection . no need offline ,but can't update online!
4.More stable.
5.Original chip
Notes:Just supported 12.12.3 now,can`t update.
VAG 12.12.3 HEX USB CAN new features.
Includes support for 2013 and early 2014 models, including those based on the VW MQB chassis("Mk.7" derived cars).

Supports a number of new UDS control module addresses.

Revised Advanced Measuring Values screen that replaces the "Specifications" column with balloon help items when the user clicks the actual value (provided of course that "Specification" data is available for that value). The old-school Measuring Blocks screen has worked like that for a long time and in many cases "Specification" that fits fine in a balloon didn't fit in the space previously allocated to it in Advanced Measuring Values.

New "Clear All Selections" function in Advanced Measuring Values.

Support for larger, more meaningful chassis descriptions in the Auto-Scan chassis selection list.

Revised ODX and expanded ROD (ODX) data set.

New version of LCode. Thanks to Niels in Denmark!.

Revised and expanded Label Files. Thanks to Sebastian!

Many other small fixes and improvements, as well as everything which was introduced in Beta Versions 12.10.0 - 12.10.2
Basic functions

00 Auto Scan
01 control module unit information
02 read fault codes
03 Output Test
Selective output test (only for KWP-2000 *)
04 Basic settings
05 clear DTCs
06 Close Control Module
07 pairs of coding control module
Slave control module for coding (only for KWP-2000 *)
Read measured value block 08
09-channel read (applies only to KWP-1281 *)
10 matching
11 Log (known under KWP-2000 * Coding II)
15 View Ready
16 security access (only for KWP-2000 *)
18 All supported fault codes (only for KWP-2000 *)
33 Common OBD-II function
ect

VAG 12.12.3 HEX USB CAN Description:
1. Is fully compatible with all VW, Audi, Seat and Skoda models through the current model year, including models using a direct CAN connection for diagnostics.
2. Has a database of more than 14000 fault-codes and measuring-block texts.
3. Can use the new 7-Digit PIN/SKC codes to match new keys in all immobilizer equipped VW/Audi/Seat/Skoda models.
4. Allows you to view, log, and graph 3 groups of Measuring Blocks at once.
5. Can access all control modules which require proprietary VAG modes running the KWP-2000 protocols (2001+ Teves Mk.60 ABS, numerous 2002+ modules), KWP6000 (CAN) and/or KWP7000 (UDS).
Normally function:
00 Auto scan
01 Control Unit Info
02 Read Fault Codes
03 Output Tests
04 Basic Settings
05 Clear Fault Codes
06 Close Controller
07 Code Module Code Slave Modules
08 Measuring Blocks
09 Single Reading
10 Adaptation
11 Login (called Coding II under KWP-2000)
15 View Readiness
16 Security Access
18 Supported Codes
33 Generic OBD-II Freeze-Frame Data Dual K-Line Support 7-Digit PINs (VAS only)
Code Database current through MY 2012 Diagnostics via direct CAN connection Transport Mode (VAS Only) Advanced Measuring Values
Guided Readiness Scripts Support for Dual ECUs Data Logging(Factory tools cannot do this!) HighSpeed DataLogging Real-Time Graphs Real-Time Gauges
Graphic TDI Timing Checker Control Module Finder Automated Service Reset (SRI) ECU Mileage Checker(Many EDC-15/16 ECUs)
Actual use, we can do some functions following
Disable amber corner lights

Disable NAV & Phone warning messages while entering data at speed

Disable Seatbelt Chime

Enable Adaptive brake lights

Enable Automatic Gear selection shown in DIS

Enable Double Disarm Beep

Enable Hidden menu in MMI

Enable Import CDs to MMI's HD

Enable Independent Fogs control with high beams

Enable Lap Timer

Enable Remote Operation windows&sunroof

Enable TPMS

Enable VIM on MMI

Set Audi parking system - Switch OFF Speed

Adjust LED Brightness

Beep on lock

more
VAG 12.12 HEX USB CAN supported vag Vehicle List
12.12 cables work with pretty much all VAG vehicles from 1994 to 2013 which have CAN, HEX or Dual K lines including (but not limited to!):
Audi A1 2010+
Audi A2 (8Z) 2000 - 2008
Audi A3/S3 (8L) 1997 - 2008
Audi A3/S3 (8P) 2004+
Audi A3 Cabriolet (8P chassis) 2008+
Audi A4/S4/RS4 (8D) 1995 - 2008
Audi A4/S4/RS4/Cabriolet (8E/8H) 2001+
Audi A4/S4/RS4/Cabriolet (??) 2008+
Audi A4/S4/RS4 ("B7" platform) 2005+
Audi A4/S4/RS4 (B8 platform, 8K chassis) 2008+
Audi A5/Cabriolet 2007+
Audi A5/S5 Cabriolet (8F chassis) 2010+
Audi A5/S5 (B8 platform, 8T chassis) 2008+
Audi 100/A6/S6 (4A) 1991 - 1997
Audi A6/S6/RS6/allroad (4B) 1997 - 2006
Audi A6/S6/RS6 (C6 platform, 4F chassis) 2005+
Audi Q5 2007+
Audi Q5 (8R chassis) 2009+
Audi Q7 (4L) 2006+
Audi A8/S8 (4D) 1994 - 2002+
Audi A8/S8 (4E) 2003+
Audi TT (8N) 1999 - 2007
Audi TT (8J) 2007+
Audi R8 (42 chassis) 2007+
Seat Alhambra (7M) 1996+
Seat Altea (5P) 2004+
Seat Arosa (6B/6H) 1997 - 2004+
Seat Exeo (3R chassis) 2009+
Seat Ibiza / Cordoba (6K) 1993 - 2002+
Seat Ibiza / Cordoba (6L) 2002+
Seat Ibiza (6J chassis) 2008+
Seat Inca (9K) 1996 - 2003
Seat Leon / Toledo (1M) 2000+
Seat Leon (1P) 2006+
Seat Toledo (1L) 1992 - 1999+
Seat Toledo (5P) 2005+
Skoda Fabia (6Y) 2000+
Skoda Fabia (5J) 2005+
Skoda Felicia (6X) 1996 - 2001+
Skoda Octavia I (1U) 1997+
Skoda Octavia II (1Z) 2005+
Skoda Pick Up (67) 1996 - 2001
Skoda Roomster (5J) 2006+
Skoda Superb (3U) 2002+
Skoda Superb (3T chassis) 2008+
Skoda Yeti (5L chassis) 2010+ VW Caddy (9K) 1996 - 2003+
VW Caddy (2K) 2004+
VW Corrado +
VW Crafter (2E) 2006+
VW Eos (1F) 2006+
VW Fox/Spacefox/Sportvan/Suran (5Z) 2005+
VW Gol/Parati/Saveiro (5X) 2000+
VW Golf/Jetta II (19E) 1983 - 1992
VW Golf/Jetta/Vento/Cabriolet III (1H) 1992 - 1998+
VW Golf Cabriolet IV (1E) 1999 - 2002
VW Golf/Jetta/Bora IV (1J/9M) 1998 - 2006
VW Golf/Jetta/Bora V (1K/5M) 2004+
VW Golf/GTI/Jetta (1K/5K chassis) 2010+
VW Golf Variant/Wagon (1K chassis) 2007+
VW Golf Plus (5M chassis) 2005+
VW Golf Mk.6 (5K chassis) 2009+
VW LT (2D) 1996+
VW Lupo (6E/6X) 1999+
VW New Beetle/Cabriolet (1C/1Y/9C) 1999+
VW Passat (31/3A) 1988 - 1994+
VW Passat (3B) 1997 - 2005+
VW Passat (3C) 2006+
VW Passat CC (35/3C chassis) 2008+
VW Phaeton (3D) 2002+
VW Phaeton (3D chassis) ("facelift", MY 2008+) 2007+
VW 6N/6N2) 1994 - 2002+ VW 9N) 2002+
VW Scirocco 2008+
VW Scirocco (13 chassis) 2009+
VW Sharan (7M) 1995+
VW Tiguan (5N chassis) 2008+
VW Touareg (7L) 2003+
VW Touareg (7L6 chassis) ( 2007+
VW Touran (1T) 2003+
VW Transporter ( 70 ) 1991 - 1996
VW Transporter (7D) 1997 - 2003
VW Transporter (7H/7J) 2003+

The list above only shows a few of the vehicles that our cables work with, if your VAG vehicle is not listed, do not worry as our cables work with 99% of all VAG vehicles from 1994 to 2014. If your VAG vehicle has a 16 pin OBDII port our Super vag cables will work. However, please feel free to contact us if you want to check that your vehicle is compatible.
VAG 12.12.3 HEX USB CAN Packing List:
1pc x Vag 12.12.3 diagnostic interface
1pc x CD Software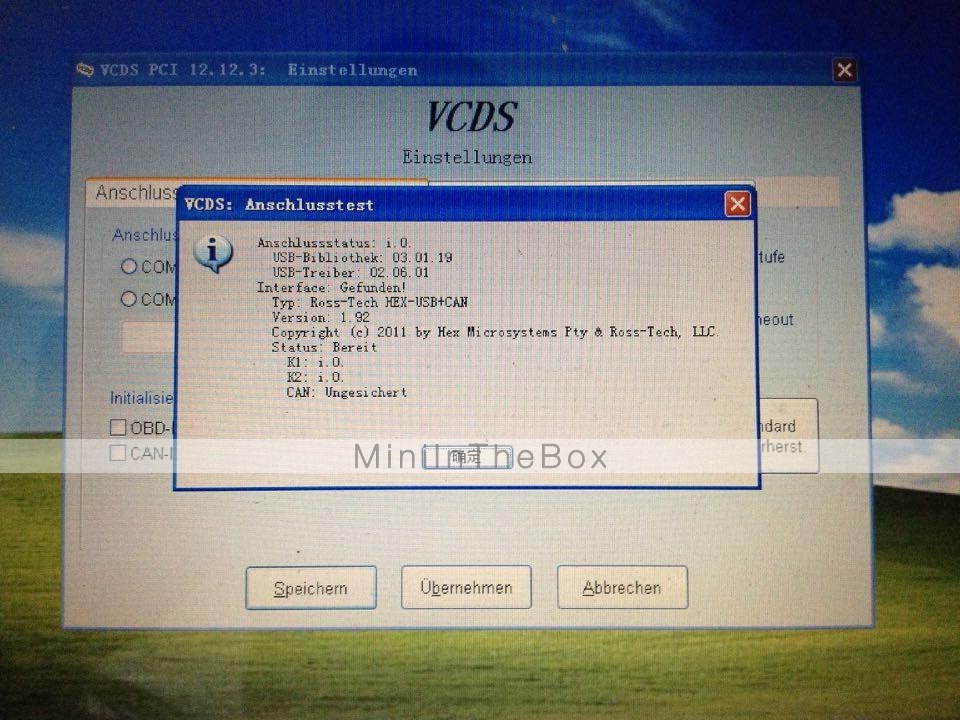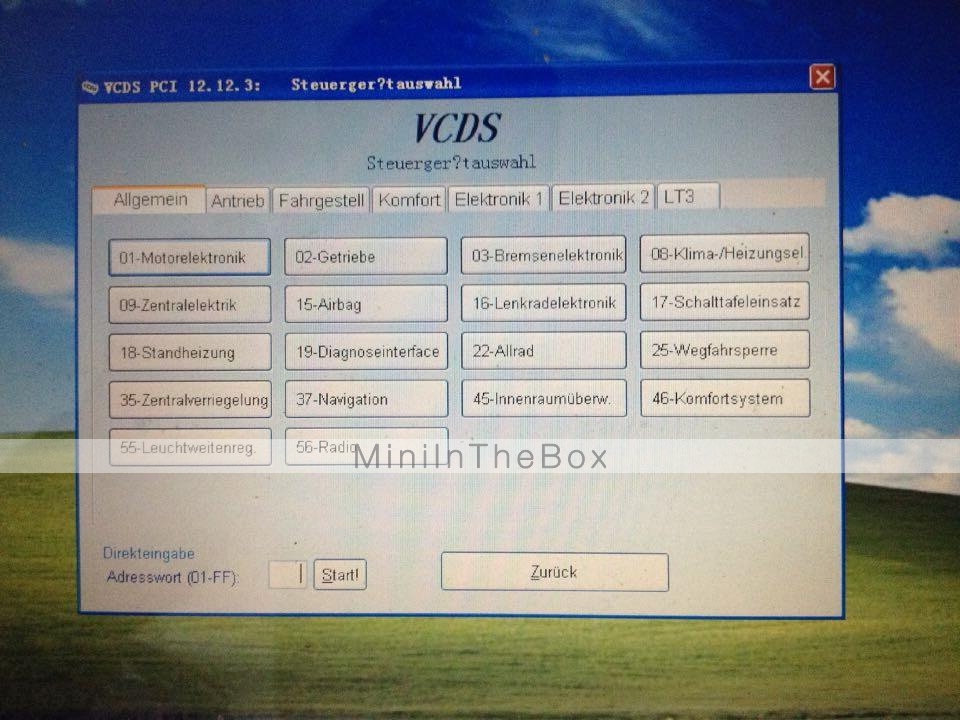 Versand AGB:
a) Einzelteile werden zu allen Ländern über der Welt.Das Paket wird von Hongkong Luftpost Post, EMS, UPS oder DHL gesendet werden.
b) Einzelteile werden sorgfältig überprüft, vor ausgesendet.
c) Wir benutzen Luftblasen, um die Einzelteile sorgfältig einzuwickeln.
Lieferzeit:
a) ein Werktage für die Auftragsbearbeitung nach empfingen die Zahlung.
b)Die Lieferzeit beträgt ca. 2 bis 5 Tage über UPS DHL und EMS, 15-30days über HK POST AIR Worldwide.

Hinweis: Wir hoffen, dass sie rechtzeitig ankommt, aber da dieses eine internationale Lieferung, Versand in hohem Grade von dem Kurierdienst und den lokalen Gewohnheiten / Aufgaben abgehangen. Vielen Dank für Ihr Verständnis.
Rückkehr-Politik:
Wenn Sie nicht mit Ihrem Kauf zufrieden sind. Kontaktieren Sie uns bitte schnell, können wir ein zu Ihnen austauschen, aber Kunden ist für die zurückgehenden shiping Kosten.
Wenn Sie irgendein Einzelteil proplem haben, mailen Sie uns einfach schnell, wir werden unser Bestes tun, um es in 24 Stunden slove, bitte nicht schlechtes Feedback, bevor Sie uns kontaktieren verlassen, ist es nicht der beste Weg, um proplem Slowe. ich danke Ihnen!
Wenn Sie mehr Artikel geben wir Ihnen eine kleine discout wollen, thank you!
Kontaktieren Sie uns:
Unsere Bürostunden sind 24hours 7 Tages-Online-Service
Und wenn niemand Antwort Sie online in der Zeit manchmal, nicht worry.leave wir eine Mitteilung oder Ihre Wünsche zu notieren, werden wir Sie so bald wie möglich kontaktieren.
Achtung: PLZ hinterlassen Sie Ihre Telefonnummer und Adresse im Detail, wenn Sie Auftrag nehmen in unserer Website, es ist sehr wichtig, um Ihren Auftrag zu versenden. (Kunden aus Brasilien PLZleave Ihre Cutsom ID auch, danke!)
Kontakt Informationen
Email: gobd2tool@gmail.com

Wie man unsere Produkte kaufen
Kundenmeinungen
Kundenmeinung von

Mr.Dimitris

Thanks. Worked perfectly. If you could let me know when any new software is released I will buy straight away.
(Veröffentlicht am 30.10.2016)

Reply:

Hello

Dear customer,

Thanks for your trust,

Have questions contact with us ,

Next to buy products ,i can give you a discount

Best regards

Zee

Kundenmeinung von

Broce

Everything ok -100% positive
(Veröffentlicht am 28.10.2016)

Reply:

Hello

Dear customer,

Thanks for your trust,

Have questions contact with us ,

Next to buy products ,i can give you a discount

Best regards

Zee

Kundenmeinung von

jeff

Hi,
I like to buy 10pcs,
It's by DHL how long to germany?
Can you send discount to me
Thank you
(Veröffentlicht am 24.10.2016)

Reply:

Dear friend.

Thanks for your turst

Dhl need to 5-7days

I can give you 10%discount

Zee

Kundenmeinung von

Bier

I have used it for one month. It is stable and i am satisfied with it. It is worthy to recommend.
(Veröffentlicht am 23.10.2016)

Reply:

Hello

Dear customer,

Thanks for your trust,

Have questions contact with us ,

Next to buy products ,i can give you a discount

Best regards

Zee

Kundenmeinung von

ludo Degraeve

Fast shipping. Good quality toner. Price very good.
(Veröffentlicht am 14.10.2016)

Reply:

Hello

Dear cusotmer,

Thank you for your feedback and we are appreciate it.Your encouragement will keep us moving forward and constantly improving our service.

If you are interested in other item or have any other probelm,please contact me freely.

Next to our website to buy products ,please contact with me in advance,i can give you a discount.

Best regards

Zee

Kundenmeinung von

Clara Lind

Fast shipping. Good quality toner. Price very good.
(Veröffentlicht am 12.10.2016)

Reply:

Hello

Dear cusotmer,

Thank you for your feedback and we are appreciate it.Your encouragement will keep us moving forward and constantly improving our service.

If you are interested in other item or have any other probelm,please contact me freely.

Next to our website to buy products ,please contact with me in advance,i can give you a discount.

Best regards

Zee

Kundenmeinung von

von ert

Everything perfect, works well and fast shipping.
seguire purchased.
(Veröffentlicht am 10.10.2016)

Reply:

Hello

Dear cusotmer,

Thank you for your feedback and we are appreciate it.Your encouragement will keep us moving forward and constantly improving our service.

If you are interested in other item or have any other probelm,please contact me freely.

Next to our website to buy products ,please contact with me in advance,i can give you a discount.

Best regards

Zee

Kundenmeinung von

stef123

Is this product suggested for Audi A5 2012?
(Veröffentlicht am 26.06.2016)

Reply:

Hello

Dear customer,

Thanks for your trust,

It's can work wirh your car ,

Thank you

Tony

Kundenmeinung von

Bog

Is it dir Skoda Octavia 5E Modellyear 2015 with Columbus 2 Entertainment System useable?
(Veröffentlicht am 18.04.2016)

Reply:

Hello

Dear customer,

Thanks for your trust,

You can to try vag15.7.4

Thank you

Tony

Kundenmeinung von

kate

Hi
I need vag15.7.1,do you have it ?
Thank you
(Veröffentlicht am 15.11.2015)

Reply:

Hello

Dear customer,

Thanks for your trust,

We have vag15.7.1 of English germany and france version

http://www.obd2tool.de/vagcom-15-7-0-vcds-hex-can-usb-interface-obd2-diagnose-cabel-for-audi-vw-seat-skoda.html

Best regards

Leen
Schreiben Sie Ihre eigene Kundenmeinung